YOU ARE READING
FEAST YOUR EYES ON THIS SEASON'S ULTIMATE APÉRITIF ACCESSORY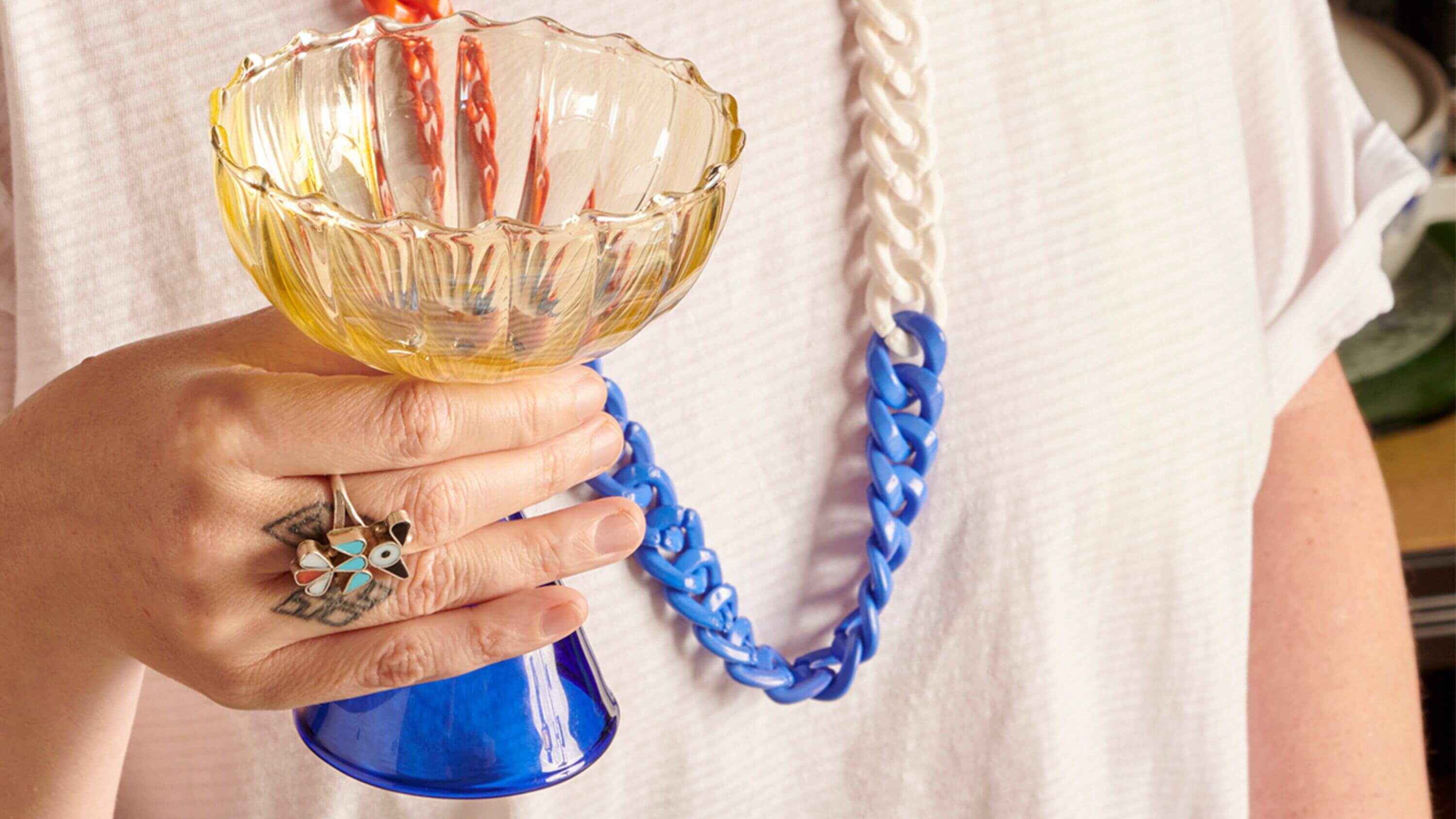 INTRODUCING THE ST‑GERMAIN X SERENA CONFALONIERI APÉRO BOWL
FEAST YOUR EYES ON THIS SEASON'S ULTIMATE APÉRITIF ACCESSORY
Apéritif hour isn't just a way to wind down after a long day, it's an art. And an art we take (very) seriously. In fact, we know that with just a few well-chosen ingredients and beautiful accessories, you can turn apéritif hour into a masterpiece.
We're delighted to unveil this season's ultimate accessory, made just for this delightful occasion.. Designed exclusively for St‑Germain by the award-winning Italian designer and art director, Serena Confalonieri, we are releasing a stunning limited edition handcrafted glass APÉRO Bowl to add instant luxury and style to your future apéritif hours.
Milan-based Serena is known for her iconic colourful, graphic designs, with her aesthetic beautifully complementing the joyful world of St‑Germain. And coupled with her love of aperitivo, she was a match made in heaven for our latest launch.
AN INTERNATIONAL LOVE AFFAIR
Indulging in apéritif hour is such a part of our French culture that the cobbled streets of Paris just wouldn't be the same without it. Did you know the 'modern' French apéritif dates back several centuries to when the drink was originally made with herbs and spices to stimulate hunger in patients. As it quickly became a hit with the bourgeoisie, apéritif hour soon spread to cafés and bars and we've never looked back…
We're not the only ones to celebrate life with anby the apéritif. The word comes from the Latin 'aperitivus', or 'something that opens.' After all, the apéritif opens the appetite before a meal! What can we say… bonne idée!
Our Italian cousins also adore the occasion, known as aperitivo. In the late 18th century, Turin in northern Italy sparked this tradition with fortified wines infused with botanicals and spices, and the rest of the nation soon became hooked.
And where the French apéritif tends to be accompanied by light bites like nuts, pâtés, cured meats, and cheese, the Italians prefer to tuck into a larger feast. Think bruschetta, crostini, pasta salads, and marinated vegetables – in fact, you'd (almost) be forgiven for losing your appetite after aperitivo!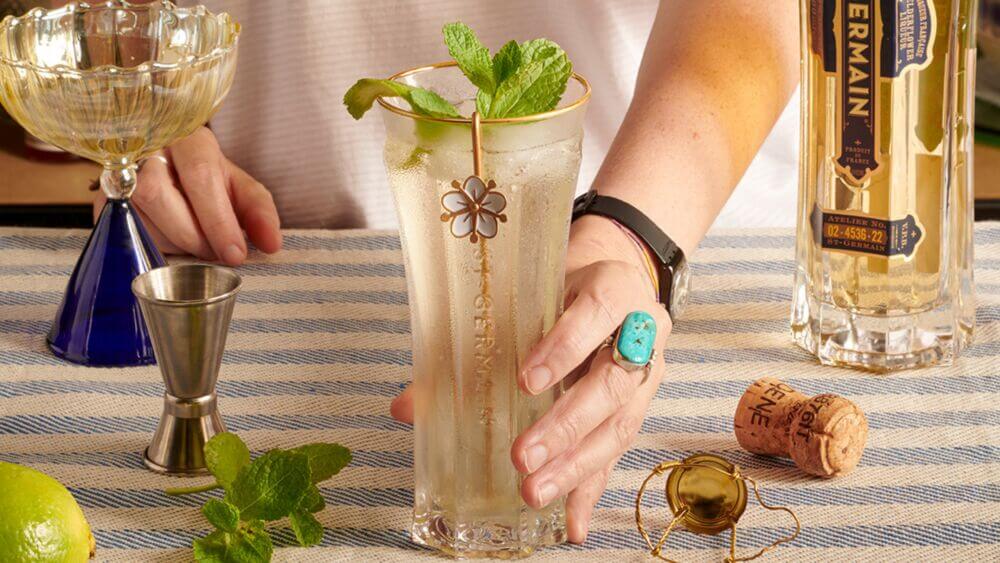 THE BEAUTY BEHIND THE DESIGN
"The aperitivo moment is a very important ritual in Italy, so when St‑Germain approached and asked me to design an aperitivo bowl, it felt like a perfect fit," says Serena.
"In the same way that St‑Germain can easily elevate an aperitivo, the bowls are designed to bring some joy to this moment. In every bottle of St‑Germain there are up to 1,000 fresh handpicked elderflowers. Just as with my creations, so much craftsmanship and care goes into each bottle."
The bowl's unusual shape is inspired by the elderflowers that create the unique taste of St‑Germain we all know and love. Each one is expertly hand-blown by a skilled artisan in northern Italy, so every piece is unique.
The St‑Germain inspired blue and gold colour palette is delightfully integrated in the bowl's eye-catching look. "The idea was to give the design a sense of lightness and freshness, a touch of natural beauty," she says. The meticulous processes involved mean there are only a limited number for sale and this covetable designer serveware won't be available for long.
The exclusive €160 bowl will be sold alongside a bottle of St‑Germain Elderflower Liqueur, a pair of our special gold-rimmed spritz glasses and two flower stirrers. The accessories will make your apéritif occasions both stunning and special for years to come. Want to get your hands on this beautiful set? Our friends in France can purchase it on the St‑Germain Boutique, and those in Italy can buy theirs at Privalia.com. Stay tuned for other markets.
Now you just need to figure out which snacks to fill your bowl with first – will you go the French or the Italian way?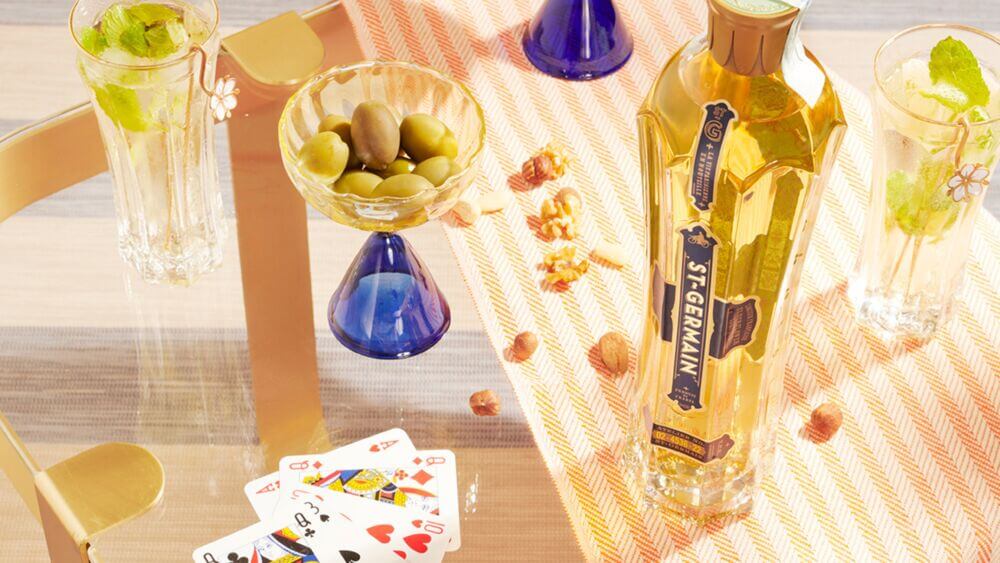 RELATED CONTENT
EXPLORE THE WORLD OF St‑Germain