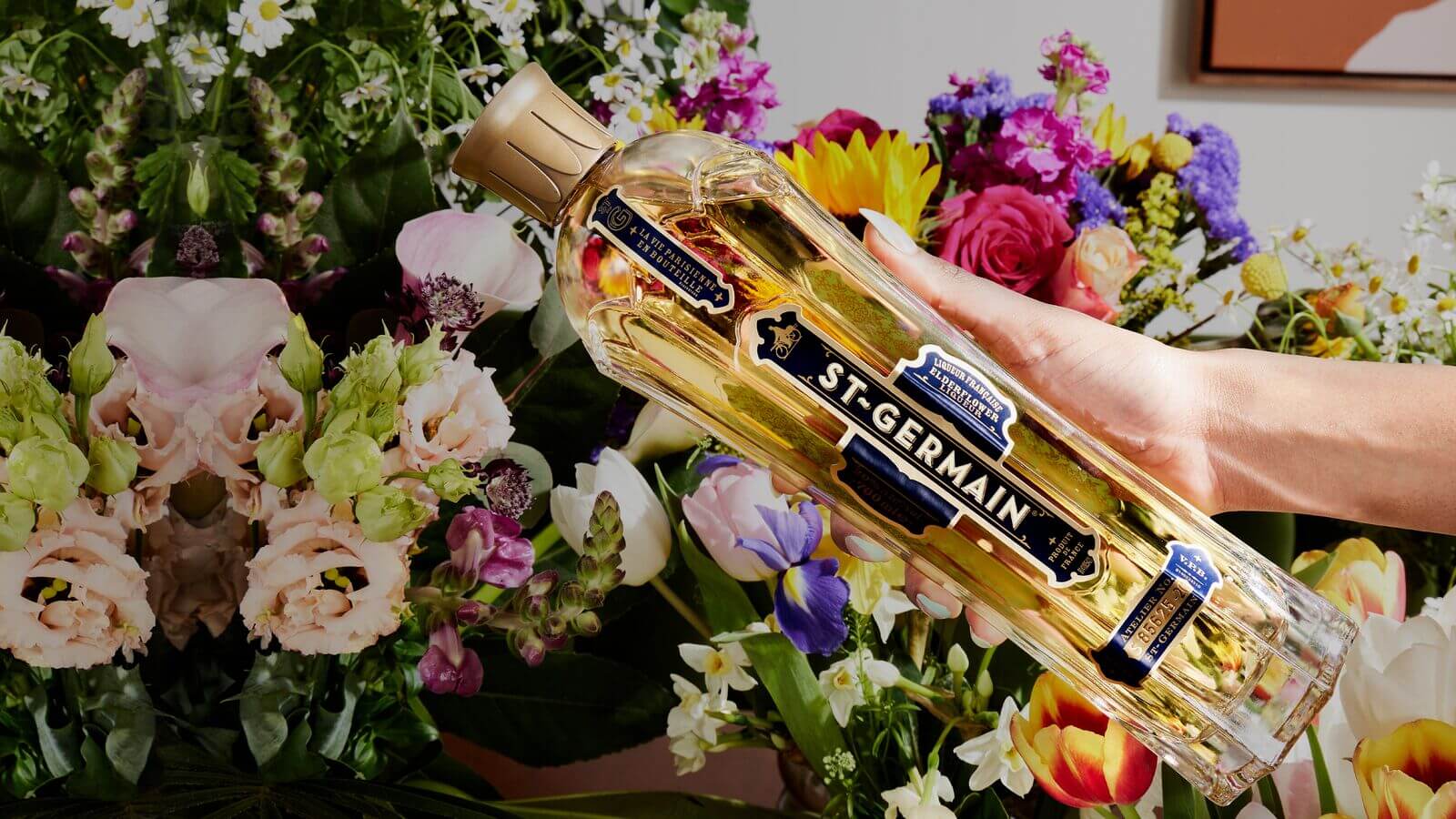 FREQUENTLY ASKED QUESTIONS
PRODUCT DETAILS
St‑Germain elderflower liqueur is an eclectic, French liqueur made from fresh, hand-picked elderflower blossoms harvested at their peak in late spring.
St‑Germain elderflower liqueur is made from the highest quality, handpicked wild elderflowers (Sambucus Nigra). Our unique maceration process allows us to capture the delicate flavour of the fresh flower blossom.
What does St‑Germain Taste like?
St‑Germain owes its enchanting flavour to the small but mighty elderflower, which offers notes of peach, pear, citrus, and just a hint of honeysuckle. C'est magnifique!
St‑Germain is a natural liqueur using a natural infusion of handpicked elderflowers. St‑Germain gets its signature golden hue from pollen and contains no artificial colouring.
How do you drink St‑Germain?
St‑Germain works well in a variety of cocktails, including the classic St‑Germain Spritz. Bartenders love our elderflower liqueur for its versatility and its ability to elevate any cocktail whether it's a Gin & Tonic, Margarita, or even an Old Fashioned.
Can you drink St‑Germain on its own?
St‑Germain loves company. Our elderflower liqueur has been designed for mixing, and one of its most enchanting qualities is its versatility.
How much Alcohol is in St‑Germain?
St‑Germain elderflower liqueur has an ABV (Alcohol by Volume) of 20% or 40 proof.
Where can I buy St‑Germain liqueur?
St‑Germain is sold in premium wine and spirit stores and "épiceries fines", as well as online through various retailers.
How long does St‑Germain last?
As a natural liqueur made with fresh flowers, the colour may slowly change over time due to natural oxidation (caused by light and air). We recommend that you consume St‑Germain liqueur within 6 months after opening, and keep your bottle in a dry, cool space and away from bright light.
Is St‑Germain Gluten Free?
Oui! St‑Germain is Gluten Free.
When was St‑Germain created?
St‑Germain is a French liqueur made with fresh elderflowers, handpicked in full bloom every spring. Up to one thousand carefully selected flowers to fill every bottle! The result: a finely crafted, perfectly balanced liqueur that leaves a lasting memory.
Where does the name St‑Germain come from?
The name St‑Germain is a tip of the proverbial hat to the historic Parisian cultural district of St‑Germain‑des‑Prés made famous by the literary icons and artists who lived and worked there during the Belle Époque. The bottle's design is an elegant testament to the Art Deco movement of the same period.
APÉRITIF
When referred to as a drink, an apéritif is often wine-based and usually not too high in alcohol. Served before a meal, it comes from the notion of inspiring an appetite and, in the case of St‑Germain, a simple way to create delicious cocktails regardless of the occasion.
What are the best Elderflower Apéritifs?
The St‑Germain Spritz is the perfect elderflower apéritif. The ideal dining companion, refreshingly simple, paired with the flavours of sparkling wine, sparkling water and a twist of lemon over ice. Our Spritz makes it easy to prepare a carafe for your at-home soiree or apéritif, and you can vary the recipe according to occasion and what you have in your at home bar. Try our St‑Germain Royale for your special apéritif celebrations.
ELDERFLOWER COCKTAILS
What are the best Elderflower Cocktails?
One of the best ways to sip our St‑Germain is in our signature Spritz Serve. In addition, St‑Germain adds a dash of freshness to your favourite cocktails such as gin and tonic, margarita, old fashioned or chilled sparkling wine.
What is the Hugo Cocktail?
The Hugo is a modern classic and variation on our signature St‑Germain Spritz. A refreshing Italian apéritif or Aperitivo made with St‑Germain elderflower liqueur, Prosecco, sparkling water, and mint.