HOW TO MAKE
St‑Germain Hugo Spritz
COCKTAILS
St‑Germain Hugo Spritz
The Hugo cocktail is the Italian cousin of the classic St‑Germain Spritz. The addition of mint and lime brings bright and zesty aromas to this refreshing tasting elderflower cocktail.
MAKE YOUR OWN
St‑Germain Hugo Spritz
iNGREDIENTS
40 ml St‑Germain Elderflower Liqueur
60 ml Martini Prosecco
60 ml Soda water
8-10 Mint leaves
Lime wedge for garnish
Mint sprig for garnish
dIRECTIONS
Add ice into a wine glass.
Pour in St‑Germain and add approximately eight mint leaves.
Top with sparkling wine and sparkling water.
Stir the drink to combine all of the ingredients.
Garnish with a mint sprig and lime wedge.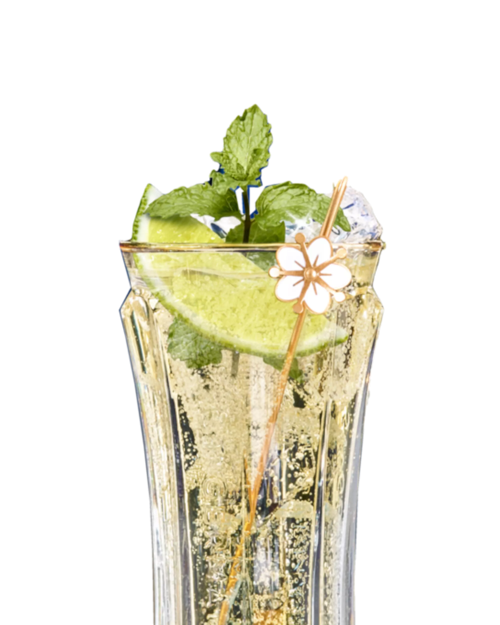 COCKTAILS
The St‑Germain Hugo Spritz is the Italian cousin of the classic St‑Germain Spritz. The addition of fresh mint and lime brings bright and zesty aromas to this refreshing tasting elderflower cocktail.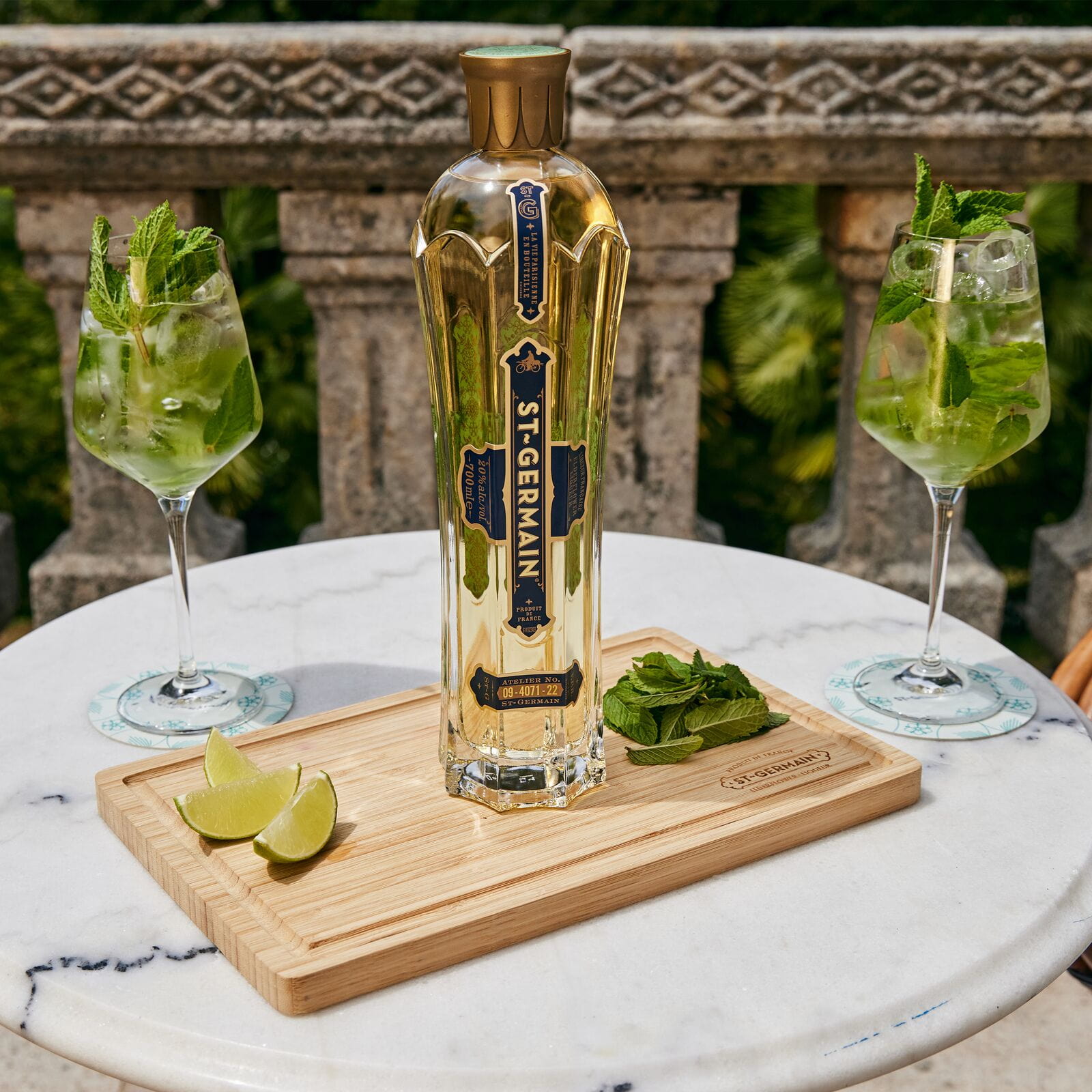 What is a Hugo Spritz?
A DASH OF GLAMOUR
Sit back, relax, and be transported to aperitivo hour in the Italian Alps with the delicate and beautifully balanced Hugo Spritz. Created in northern Italy in 2005, the sumptuous spritz has won people's hearts and is now one of the most popular drinks in Europe. The secret ingredient? A generous dash of St‑Germain elderflower liqueur – mais oui!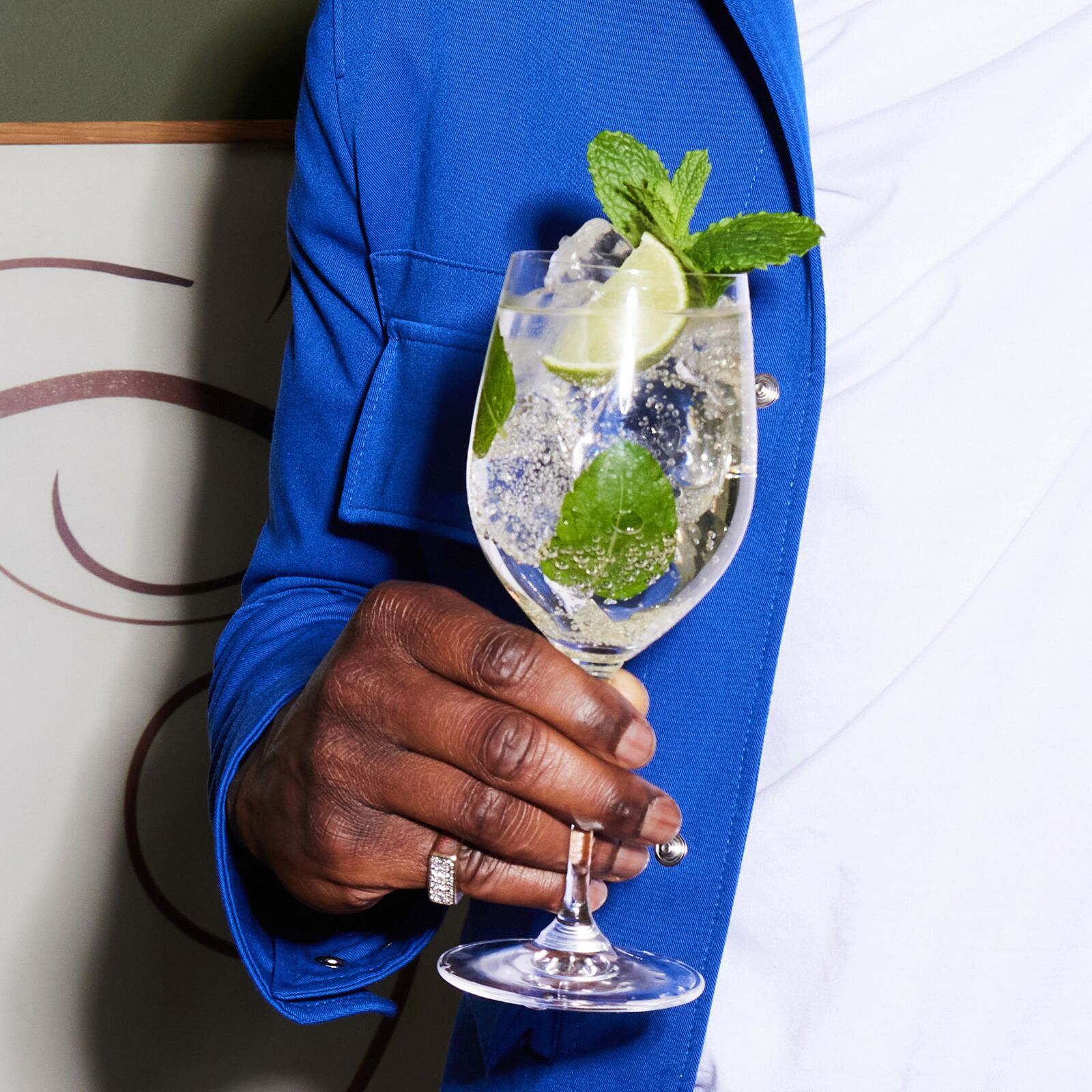 How to make the perfect Hugo Spritz
SPRITZ TIPS
Whether you're hosting an elegant soirée or enjoying more casual drinks with loved ones, there are a few simple things you can do to really set the Hugo spritz apart. First, don't be shy on the ice! Fill the glass right to the top with cubes – it will keep the cocktail colder and your ice will dissolve more slowly. Also treat the mint with care to prevent bruising, which can cause bitterness. Stir gently and avoid muddling.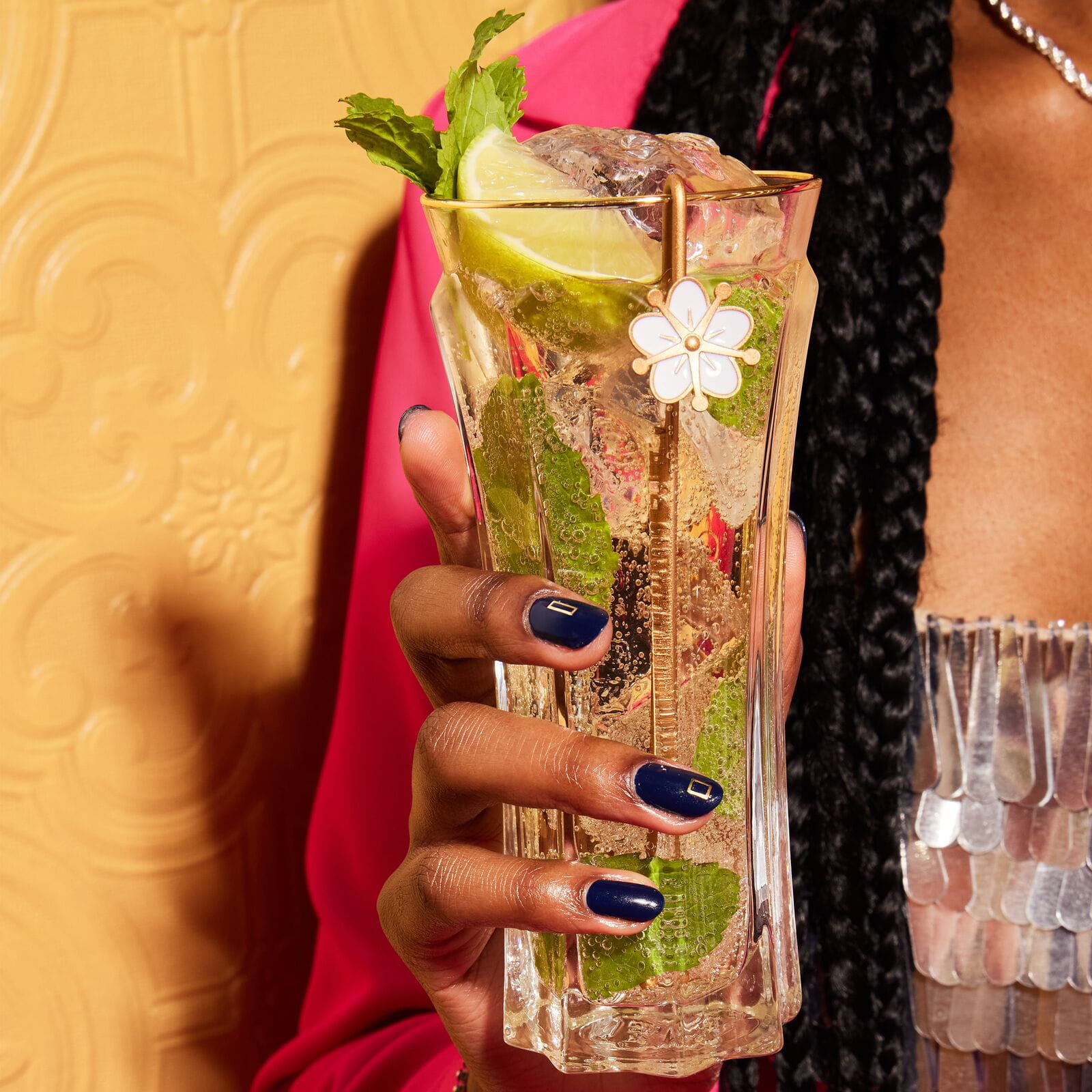 Where was the Hugo cocktail invented?
THE HUGO SPRITZ EVOLUTION
The contemporary classic has taken on a life of its own. Originally named 'Otto', its inventor, bartender Roland Gruber, later settled on 'Hugo' simply because he preferred the name! Change is at the heart of this celebrated cocktail, with its ingredients also evolving with time. First, tangy lemon syrup was replaced by sweeter elderflower cordial, and then elderflower liqueur was found to be the perfect ingredient. After all, a heavenly splash of St‑Germain makes every drink better!
COMMON QUESTIONS
WHAT IS ST‑GERMAIN ELDERFLOWER LIQUEUR?
St‑Germain is a French elderflower liqueur used by bartenders across the world for its naturally versatile and bright fresh floral flavour.
WHY USE ST‑GERMAIN IN THE HUGO COCKTAIL?
It's the perfect ingredient to elevate the Hugo spritz. The distinctive blend of fresh flowers and the unique technique we use to capture their most delicate notes means St‑Germain brings a welcome complexity to the Hugo cocktail. Once you've tried it, you'll never look back…
WHICH GARNISH IS BEST FOR THE HUGO SPRITZ?
After gently stirring 8-10 mint leaves with St‑Germain Elderflower Liqueur and adding your remaining ingredients, top each glass with a single lime wedge and mint sprig. No need to squeeze the lime – your drink will already be perfectly balanced!
WHICH WINE TO USE IN THE HUGO COCKTAIL?
We recommend dry Prosecco in our Hugo cocktail recipe, but feel free to experiment with different flavours based on your palate. For a perfectly pink Hugo Rosé Spritz, just add Martini® Rosé Prosecco or still rosé wine.
WHICH GLASS FOR A SPRITZ?
Your glassware will make all the difference – opt for a large wine glass with plenty of room for ice, or you can further elevate your cocktail with an effortlessly chic St‑Germain Hugo Spritz highball glass.
How to Make
HUGO SPRITZ Recipe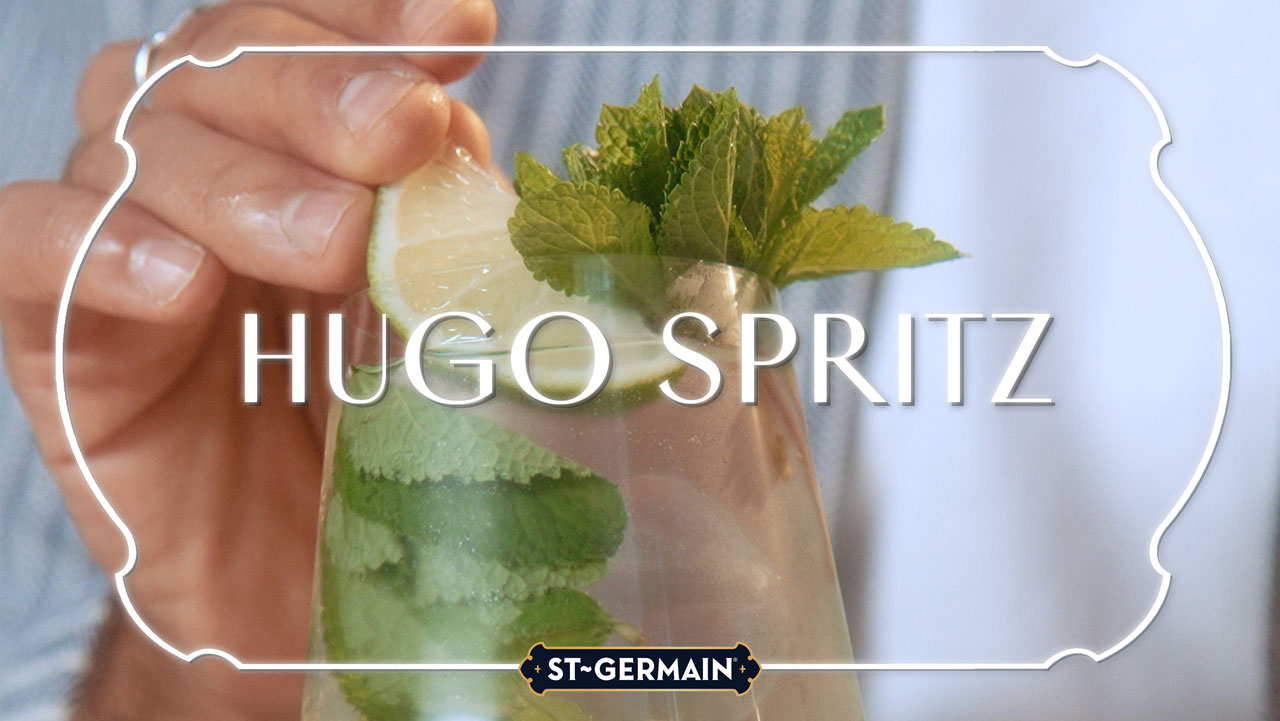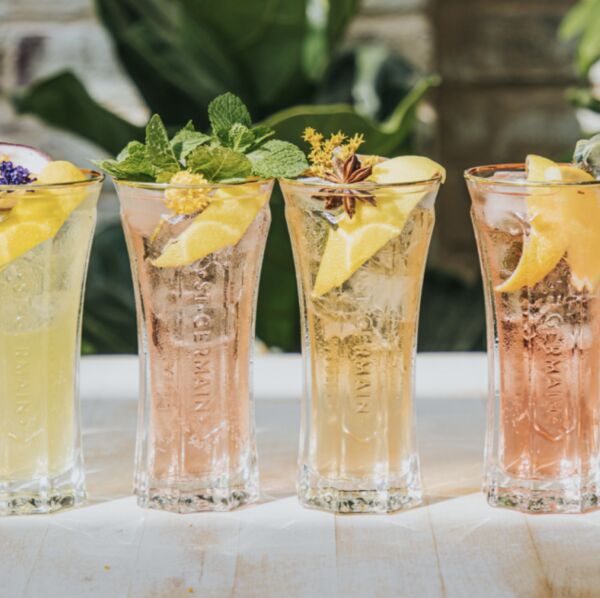 MAKE IT YOUR OWN
A SPRITZ FOR EVERY SEASON
Mix and match ingredients, create your own signature St‑Germain Spritz to add style to any season.
ST‑GERMAIN STATE OF MIND
SET THE MOOD
What does a French Spritz sound like? Find out with our spritz essentials playlist, the perfect companion for your afternoon apéritif.